Steadfast Group
Statewide Insurance Brokers is a member of the largest insurance broker network in Australasia, the Steadfast Group.
Comprised of 300+ brokerages with over 500 offices, the group generated over $6 billion in insurance sales last financial year.  This scale gives Steadfast enormous buying power, flexibility and influence when negotiating with major insurers on behalf of Steadfast brokers and results in us being able to provide our customers with access to multiple insurance companies, a broad range of products, competitive pricing, valuable advice and quality service.
As a Steadfast network insurance broker, you get the best of both worlds – local and personalised service, with the insurance expertise and support of a large organisation. Strength when you need it.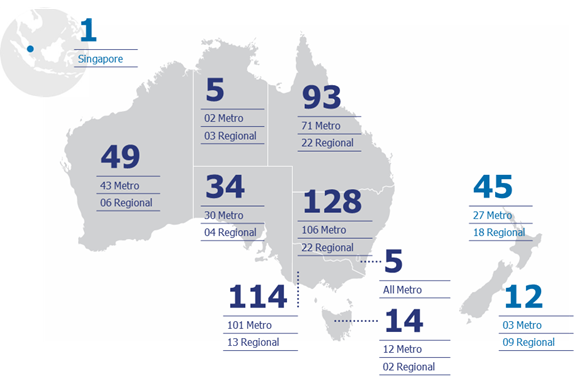 Steadfast History
In 1996, 43 independently-owned insurance brokerages joined forces, united in the belief that quality advice and service were paramount in the insurance industry.  With that Steadfast was born, an Australian owned and operated enterprise.
Today Steadfast is Australasia's largest general insurance broker network comprising 300+ brokerages with more than 500 offices across metropolitan and regional Australia and New Zealand. We are an ASX 200 listed company, a market leader in our industry and an innovator in insurance broking. True to our original charter, Steadfast exists to drive an insurance broker network that provides unique professional services and advice to its clients.
The Steadfast generated over A$6 billion in insurance sales last financial year, and looks after over 2 million policies for Australian and New Zealand businesses.
The Steadfast model revolves around the insurance broker network as well as equity interests in some of those network brokers, underwriting agencies and a number of complementary businesses, including a life broking business, a reinsurance broking business and a premium funder, amongst others. We are expanding our range of businesses to broaden the capabilities and offering of our insurance brokers, to help them better service your business – so you can operate with confidence.
Steadfast Benefits
Buying power
Steadfast Group's size and buying power means we can negotiate our own exclusive policies. And that means your Steadfast broker can bring you best in class coverage, competitive pricing and superior policy support services.
Greater choice
We are not exclusively aligned with any particular insurer which means our clients are provided the policy most suited to them.
Dedicated contacts
The major insurers we deal with have allocated a dedicated contact person for Steadfast brokers to contact to expedite issues, policies or claims.
Industry involvement
The Steadfast Group is an integral part of the insurance environment. We are in constant dialogue with leaders in the insurance industry to find ways to improve the insurance landscape so that insurers and service providers better understand the needs of clients.
Relationships
Our relationships with our insurance partners is deep and strong. We work with providers of services like insurers, underwriters, wholesale brokers, premium funders and specialist insurance providers both in Australia and internationally.
Leading names
Our strategic partners include some of the world's leading names in insurance.



Statewide Insurance Brokers
3/78 Mill Point Road
South Perth WA 6151
PO Box 240
South Perth WA 6951
AFSL: 231 311
ABN: 87 008 743 280